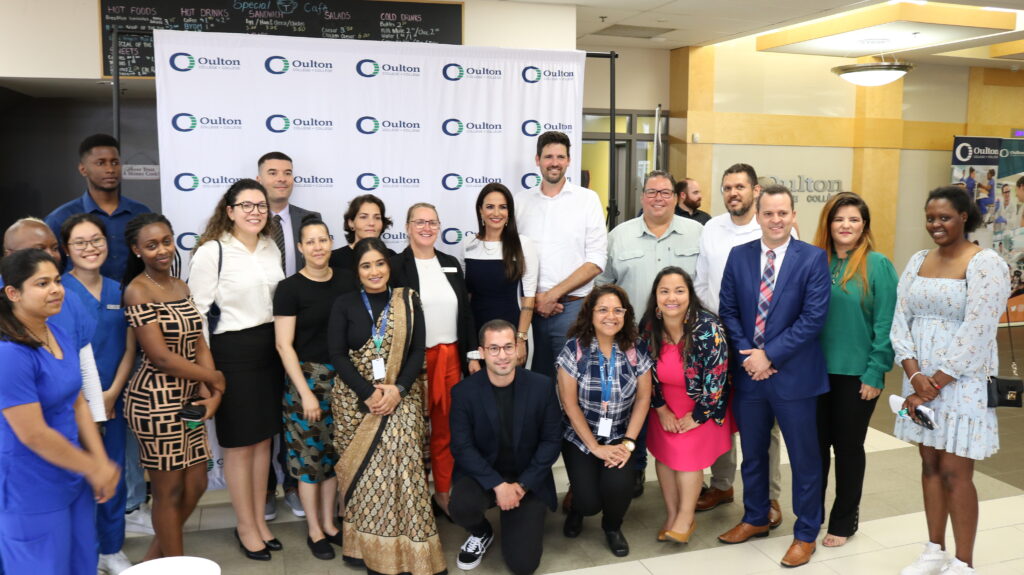 Moncton, NB – July 17, 2023 – Oulton College, Atlantic Canada's premier private career college, welcomed the Honourable Sean Fraser, Minister of Immigration Refugees, and Citizenship Canada to its Flanders campus. The visit aimed to foster meaningful engagement with the international student community and provide a platform for productive dialogue with stakeholders, as part of the college's ongoing efforts to support international students and improve their access to attend regulated private career colleges.
Tour and Meeting
Minister Fraser received a warm welcome from the Oulton College students, staff, and instructors and toured the campus, where he engaged in lively discussions with students taking Practical Nursing, Veterinary Technician, and Medical Laboratory Technology programs, to name a few.
Following the tour, a meeting with faculty and stakeholders underscored Oulton College's significant role in providing the labour market with job-ready graduates and extensive support to international students as they integrate into their chosen fields. Discussions centered around vital topics such as the New Brunswick Private Career College Graduate Pilot Program and various work options for students. The visit explored avenues for international students to study and work in areas of labour market demand within the province.
Session with Stakeholders
The engaging session gathered distinguished members of the community, including the Chamber of Commerce for Greater Moncton CEO John Wishart; City of Moncton's Immigration Strategy Officer Angelique Reddy-Kalala; the Executive Assistant to the Honourable Ginette Petipas Taylor, Member of Parliament for Moncton-Riverview-Dieppe, Martin LeBlanc; and Multicultural Agency of the Greater Moncton Area (MAGMA-AMGM) Chief Strategy Officer Ron Gaudet and Managing Director Alison Frise. MAGMA specializes in immigrant settlement services in New Brunswick and has been working closely with Oulton College to support students.
Message from Oulton College
Oulton College President Darcie Reidpath expressed her gratitude for the presence of Minister Fraser and the guests: "This was a great opportunity to have the Federal Minister of Immigration on campus to witness the enriched environment that international students have brought, and to hear from stakeholders about the passion this community has for international students entering the labour market areas. Their presence reflects the importance placed on the collaboration needed to create a welcoming and supportive environment for all students," she said.
Message from Minister Sean Fraser
"Oulton College and its students demonstrate hard work and tenacity in succeeding in all they do. International students contribute to our social and economic diversity while pushing our workforce and economic growth forward. The important discussions we had emphasize the success of newcomers and international students in Canada when they are met with the access to education and resources they need to thrive." – The Honourable Sean Fraser, Minister of Immigration, Refugees and Citizenship
Message from the City of Moncton
City of Moncton Immigration Strategy Officer Angelique Reddy-Kalala said integrating international student graduates into the local labor market is important as the City continues to grow. "We hope this initiative continues – by the time students graduate, they are not only trained and job-ready – they have already had time to become part of the community. We want to help them take the next step and connect them with employers, help them find jobs in a timely manner, and make sure they have what they need to be successful."
Message from the Chamber of Commerce for Greater Moncton
Representing close to 900 businesses through the Chamber of Commerce for Greater Moncton, Wishart said: "The business community needs skilled workers and various private colleges like Oulton to provide a great pipeline for more labour.  Private colleges that are doing a great job of giving their students the proper training and connecting them with employers like Oulton College should be allowed access to train more international students. Their contribution benefits the business community and industries."
Message from MAGMA-AMGM
MAGMA Managing Director Alison Frise added: "Oulton's Human Services program has allowed us to hire many of their students who are now helping to settle newcomers. Skilled Settlement workers are in high demand and will continue to be, like other integral roles such as healthcare workers. Private career colleges like Oulton's are powering our economic growth and filling important sector specific needs with their graduates."
Supportive community that values diversity and excellence
The event concluded with a renewed commitment from Oulton College to foster an inclusive and supportive community that values diversity and promotes educational excellence. Oulton College remains steadfast in its dedication to providing a nurturing environment that prepares students for success.
Minister Fraser signed a special message for Oulton College before he left: "Congratulations on what you've built here at Oulton College! Let's keep working to grow Atlantic Canada!"
Oulton College Legacy
For nearly 70 years, Oulton College has been a leading private career college in Atlantic Canada, producing over 10,000 job-ready graduates in fields such as Business, Health Sciences, and Human Services. It is a member of the National Association for Career Colleges in Canada, which adheres to the highest regulatory standards to ensure the best quality education for its students.
With a rigorous admissions process, distinguished instructors, top-notch facilities, and a supportive career services program, Oulton College is committed to providing students with an exceptional learning experience. The college offers a wide range of career-focused programs, equipping students with the skills and knowledge needed to succeed in their chosen fields.