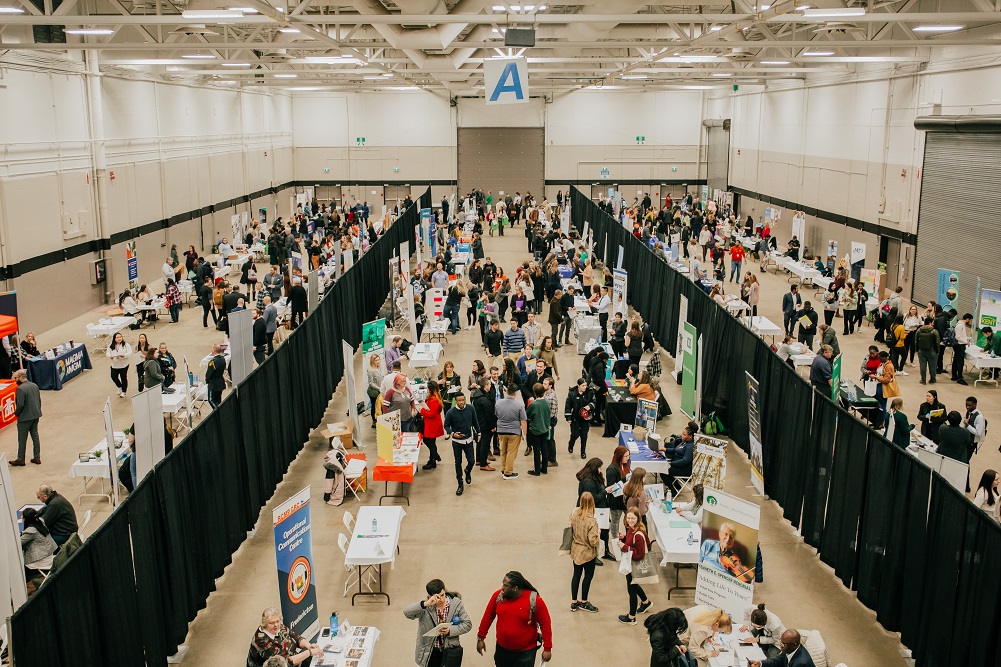 [Moncton, New Brunswick] Oulton College, Atlantic Canada's premier private career college, takes pride in providing exceptional career services support to its students. While colleges will typically extend student graduate support, including resume assistance, LinkedIn profile creation, and internship/job identification, the scope of Career Services at Oulton College goes far beyond these offerings.
Career Services Advisor Ryan Schlossberg gives us a preview of the extensive support provided to students throughout their college journey. From initial contact to post-graduation, he shares that the Oulton College Career Services team – which Schlossberg leads together with fellow advisors Dale Turcotte and Eileen Wallace – plays a pivotal role in guiding students, addressing their concerns, and ensuring they have the necessary tools to excel in their chosen fields.
Student Front Liners from Day One
As the first point of contact for students at Oulton College, Career Services ensures that students know they can rely on their guidance whenever they have questions or concerns. Schlossberg explains: "We make it a point to inform them that if they don't know where to get the right answer, they should come to us first."
From finance-related queries to helping students navigate college life, Career Services – in collaboration with Student Finance, Student Services, the Admissions team, and College instructors – ensures that learners are comfortable and informed throughout their college experience. The Career Services team helps connect students with relevant staff members in the College, addressing any hesitation they may have in seeking assistance.
(From left) Oulton College Career Services advisors Ryan Schlossberg, Eileen Wallace, Jill McMillan, and Dale Turcotte at the Career Expo in April 2023
Guidance Throughout the Oulton College Journey
Schlossberg emphasizes that their support encompasses every aspect of a student's college life. From helping students with simple tasks like troubleshooting equipment to guiding them through registration packages and answering questions about vaccination requirements, Career Services goes above and beyond to provide comprehensive support. Students who are facing challenges receive mentoring and guidance all throughout their college life. For international students, this will include guidance on how they can best adjust to North American business customs and workplace culture. They are also prepared for their on-the-job training (OJTs), clinical placements, or preceptorships.
Going Above and Beyond for Student Success
A significant aspect of Career Services at Oulton College is assisting students in securing internships and OJT placements. Schlossberg explains that they address this requirement from the moment students register for their programs. They guide students through the necessary paperwork, offer information sessions, and answer questions.
Depending on the program start date, Career Services reaches out to students approximately three to four months before their scheduled OJT placement. By actively engaging with students and ensuring they know the details well in advance, Career Services aims to provide a seamless transition to the practical phase of their education.
While some Oulton College programs limit placements to local sites, others offer opportunities for students to explore internships and OJT positions outside the province and even internationally. Schlossberg proudly shares that Oulton College has successfully placed students in organizations located in various provinces across Canada, and they have even facilitated international placements. By leveraging their extensive network and continuously expanding connections, Career Services aims to match students with placements that align with their preferences.
The College always strives for a 100% placement rate as it is a requirement for program completion. Schlossberg acknowledged that challenges may arise, but the college's track record demonstrates its commitment to helping students find suitable placements. Schlossberg points out: "It's important that the student goes to a place that they want to go to, and to have that power of choice, to allow them to enjoy the experience more."
Career Services maintains strong communication with students while they're undergoing internships. This allows the team to mentor, coach, and help students maintain their focus as well as be open to constructive feedback while on the job. Schlossberg said students will typically start slow, and then grow their confidence and enthusiasm.
(From left) Oulton College Career Services advisor Dale Turcotte, Ontario Provincial Police Sgt. Vynny Hick, Oulton Policing & Corrections Foundation student Janice Ellis, and Oulton College President Darcie Reidpath
Impressive Job Placement, Alumni Connections, Career Expo
Oulton College's Career Services has achieved remarkable success in placing students in jobs following graduation. Job placements have been consistently at a rate of 94% within six months of student graduation year on year, at times even higher. Schlossberg also emphasizes the importance of ongoing connections with alumni, indicating that some graduates reach out to share updates and express gratitude for the support they received.
With its stellar reputation for producing highly skilled and job-ready graduates, Oulton College has become the go-to for employees seeking out new hires in the fields of Health Sciences, Human Services, Business, and IT. Career Services works with employers across New Brunswick and Canada to create a network that will provide good job-matching opportunities and address the needs and goals of both students and employers.
Early this year, Oulton College hosted a Job Expo with close to 100 employers on site, connecting future Oulton grads and alumni to job opportunities in New Brunswick and elsewhere in Canada. The half-day expo gathered close to 700 attendees and opened positions for both the students and their plus ones.
The employers and organizations present at the Oulton Career Expo include: East Coast Dental Group, Dental Corp, Vet Strategy, VCA, NVA, Midland Transport, Rogers, Keller Williams, the Office of the Attorney General, Social Development, Wee College, TD Bank, Shannex, Horizon Health Network, Vitalité, Service New Brunswick, RCMP, ScotiaBank Tangerine, the Ontario Provincial Police, Nova Scotia Health, PEI Health, MAGMA, Medavie Blue Cross, Jazz Aviation, the Anglophone East School District, Justice & Public Safety of New Brunswick, IGT, Department of Fisheries & Oceans, and the Atlantic Canada Opportunities Agency, to name a few.
Oulton College's Career Services provides robust support for students throughout their college journey, from their initial steps on campus to their successful transition into the workforce. With a focus on personalized guidance, Career Services ensures that students feel supported, informed, and empowered to pursue their career goals. The dedication, guidance, and personalized attention provided by the career services advisors ensure that students are well-equipped to enter the workforce with confidence and competence. Oulton College's commitment to comprehensive career services sets it apart as an institution dedicated to student success.
Career-focused programs
Oulton College offers a wide range of career-focused programs that equip students with the skills and knowledge they need to succeed in their chosen fields. With diploma programs in Business Management and Entrepreneurship, Medical Office Administration, Paralegal/Legal Assistant, Sales, Marketing and Business Development, and Travel & Hospitality under the Faculty of Business. Health Sciences programs include Dental Assistant, Dental Hygiene, Medical Laboratory Assistant, Medical Laboratory Technology, Practical Nursing, Primary Care Paramedic, Veterinary Assistant, and Veterinary Technician. Human Services programs include Early Childhood Education/Educational Assistant, Human Services Counselor, and Policing and Corrections Foundation. The Faculty of Information Technology offers the Systems Management and Cybersecurity program.